On Tuesday 9 November, Make It Grow collaborated with Gateway Zimbabwe fellows to participate in the "Connecting Across the Distance" event hosted by The University of Sheffield's Institute for Sustainable food.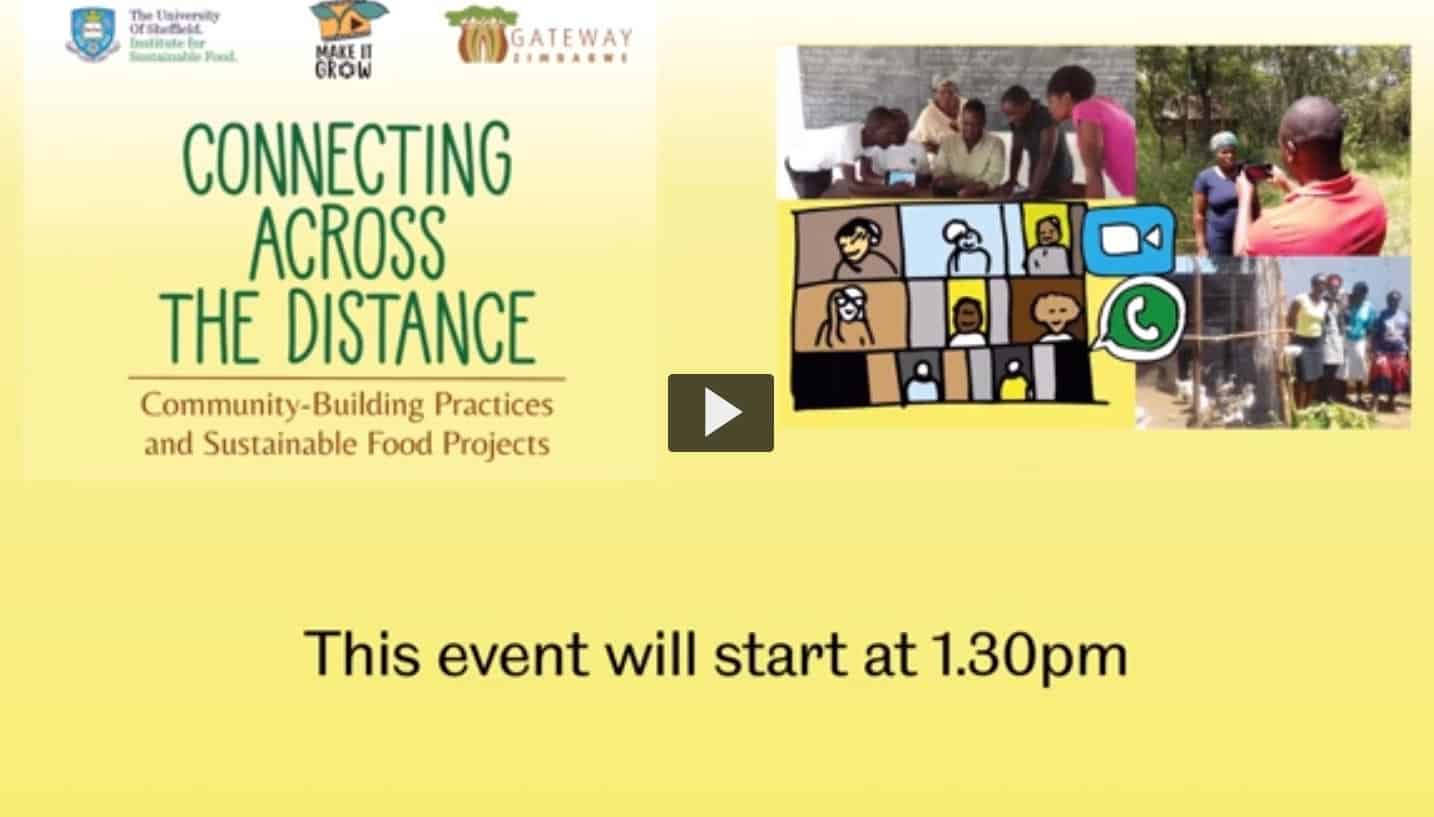 As a Knowledge Exchange project, we collaborate with NGOs and CBOs in Zimbabwe to equip individuals and communities with the skills needed to create participatory video proposals and address sustainable food issues, using smartphone technologies.
As a result of Covid-19, we adapted our interactive workshops in project planning and video-making to provide online learning circles using Zoom and Whatsapp.
We worked 36 hours over three months with the Gateway Zimbabwe project partners, resulting in the creation of a multitude of video proposals for projects surrounding sustainable food and community.
This event highlighted how 'connecting across the distance' had been impacted by the pandemic, and how we are navigating these issues to find new, innovative ways to support communities and sustainable food systems across the globe.
Significant Zimbabwean community voices such as Michar Mushiko from TrustAfrica, Maaianne Knuth from Kufunda, and Mvuselelo Huni from ORAP took part in the event, collectively representing Gateway Zimbabwe.
Exploring the potential of community-based innovation, it became clear that collaboration and communication was key to generating more sustainable food systems and resilient communities.
Founder and leader of the Make It Grow project, Dr Pamela Richardson-Ngwenya said: "One of the key things that keeps coming up the more we talk and engage together is the importance of the relationship between community-building and community voice, then finding that voice and expressing it."
"Sustainable food is very much central to community building."
The round-table discussion also explored the critical relationships between food, community building and community "voice", which the Make It Grow project serves to amplify through its capacity building workshops.
Mvuselelo Huni, CEO of ORAP said: "It's been a real honour to be a part of the Gateway Zimbabwe programme and to see all the amazing innovations that have come through in order to create voice for the communities that we are serving."
"We believe strongly in hearing the stories of the communities we are working with, unedited and without an agenda. Looking at what's working well and what are the positives of how the community works – there's often a lot of time and focus spent in identifying what's wrong and what are the problems."
"What made us very excited about it working together as ORAP and Make It Grow was that it was an opportunity for communities to tell their stories and have them taken further with a useful purpose."
"It allowed people in an alternative way to create their own proposals with their own voices and not just following a template which is written down, which is often inaccessible to some of the more marginalised communities in Zimbabwe."
"In terms of community and communication, we are always looking for alternative ways that will work for the people we are trying to serve, and being able to have people use their own voices to tell their own stories is very powerful and very central to us."
Discussing the importance of sustainable food to the communities in which we live and work, Director of Kufunda Village, Maaianne Knuth said: "Sustainable food is increasingly being used to restore cultural and traditional Zimbabwean roots.
"For example, we have begun to discourage the use of artificial fertilisers and pesticides and are instead working to nourish and replenish the soil and in doing so, we are also nourishing and replenishing ourselves."
"Good food comes out of caring for the for the earth and plants."
Ultimately, the need for collaboration, connection and increased sustainability is needed now more than ever with the with the impact of the climate crisis deepening, particularly evident within Zimbabwe.
Following the workshop series, we continue to support our participants' and their fundraising campaigns through ongoing public events and online publication of their video proposals.
Please support our community partners in Zimbabwe to fundraise for their sustainable food projects by sharing this article and by donating to their Crowdfunding campaigns.